 Bongo Star Diamond Alights Car in Middle of Street Staggering and In Boxers, Video Goes Viral
Half-naked Diamond staggers In a video shared on his Instagram account, Diamond startled onlookers as he alighted from a car in the middle of the street, wearing nothing but blue boxers, white sneakers, and blue goggles.
Renowned Tanzanian musician Diamond Platnumz has sparked a frenzy among fans with a video of him stepping out of a car in the middle of the street, half-naked.
Fans reacted differently after watching the video of Diamond being shirtless in public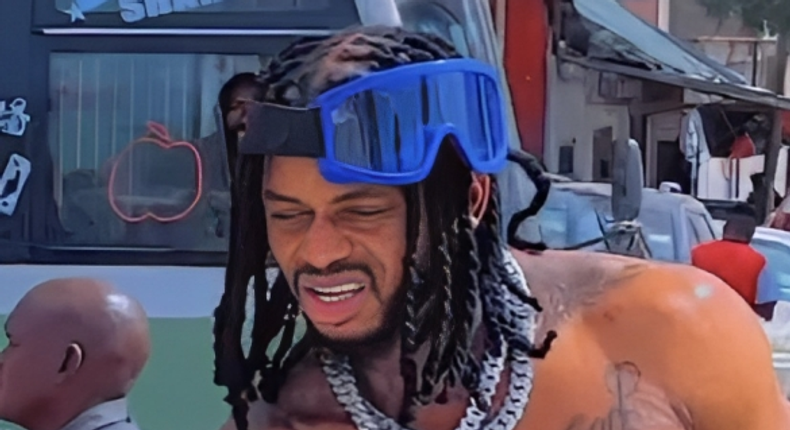 Bongo Flava star Diamond Platnumz was captured on video shirtless as he alighted from a Toyota Landcruiser and headed towards a nearby Mercedes Benz.
He then leaned on the door of another vehicle parked nearby for support. The video immediately caught the attention of fans, with the comments section overflowing with reactions and admiration for Diamond's toned physique and well-defined six-pack abs. Female fans were particularly vocal in expressing their awe and appreciation for the artist's physical appearance.
The video generated various reactions, with people questioning what was happening with the Bongo Star.
Diamond was wearing blue shorts, white shoes, and had goggles on. He appeared momentarily confused as he switched from one car to the other.
This writer contacted a source from the Wasafi team, and it was confirmed that Diamond was preparing for his treble performance in Jangwani, Tanzania.
A treble signifies that a club has won three major trophies, and it is customary to hold a parade to celebrate with the fans and the entire community.
Young Africans Sports Club (Yanga), located in Jangwani, was celebrating their triumphant achievement of securing all three trophies.
Wasafi Media later shared a video of Diamond performing in a packed stadium, with a caption stating that he was enjoying some quality time with Tanzanians.
"Diamond akiweka sukari juu ya keki ya wananchi kwenye sherehe za ubingwa wa makombe matatu hapa Jangwani," Wasafi Tv added.
Some Simba fans expressed their disappointment and perceived his performance as an act of betrayal, stating that it would have been better if he had not made an appearance in Jangwani.
"So someone calls himself a Lion yet he is in the desert. Simba akikosa hula nyasi," Aikah Mlay wrote.
Others, however, praised Diamond, noting that you can only dress like him if you have money, as some individuals may associate unconventional attire with mental illness if you are poor.