 Flies' head: a spicy stir-fry from Taiwan
This Taiwanese specialty of pork and garlic chives gets its name from the fermented black beans in the stir-fry, which are reminiscent of flies.
In the early 2000s, a curious dish named "flies' head" began to appear on restaurant menus across Taiwan - a stir-fry of garlic chives and pork mince, accented with tiny bits of fermented black beans.
"It has a similar colour scheme to a green bottle fly, which is how it gets its name," said Taiwanese food writer Chen Ching-I. "The body is greenish and brown, which are like the chives and the pork." She noted that the fermented black beans are reminiscent of the fly's beady, dark eyes.
A uniquely Taiwanese creation, the dish is said to have been invented at Wang Cheng Laoma, a Sichuan-style eatery in Taipei, when the chef and owner Cheng Wen-Chiang was faced with an excess of garlic chives. He opted to chop up the chives and toss them with whatever he thought would go well: some pork mince for substance, salty and soft fermented black soybeans for depth, and chillies for spice. It was such a hit with his employees that he put the dish on his menu and it became an instant bestseller.
With so much popularity in Taiwan, the dish eventually made its way onto the menu at Taiwanese restaurant Main Street Imperial Gourmet in Flushing, New York. In 2013, it was a revelation for friends Josh Ku and Trigg Brown, the co-owners of Win Son Restaurant in Brooklyn and authors of Win Son Presents A Taiwanese-American Cookbook.
"It's one of the first things that Trigg and I bonded over," said Ku, adding that Brown was so enamoured by the dish that he would talk about it "like it was his wife".
"It was very vegetable forward and deftly cooked, and I respected that," said Brown, who was working as a chef on the vegetable station at New York City's Craft Restaurant at the time. "It utilised the meat in a really smart way to make it savoury and unctuous."
The dish was so good that it inspired Ku and Brown to open Win Son Restaurant in 2016, as an ode to the flavours of Taiwan, where Ku's family is from. Since then, flies' head has remained a staple on their menu, made with fatty pork mince, bright-green garlic chives, piquant bird's eye chilli and fermented black beans sourced from western Taiwan. It's served over a bowl of warm rice.
"It's so hearty and filling. You don't need another dish because you've got your protein, vegetables and rice," said Cathy Erway, food writer and co-author of the cookbook.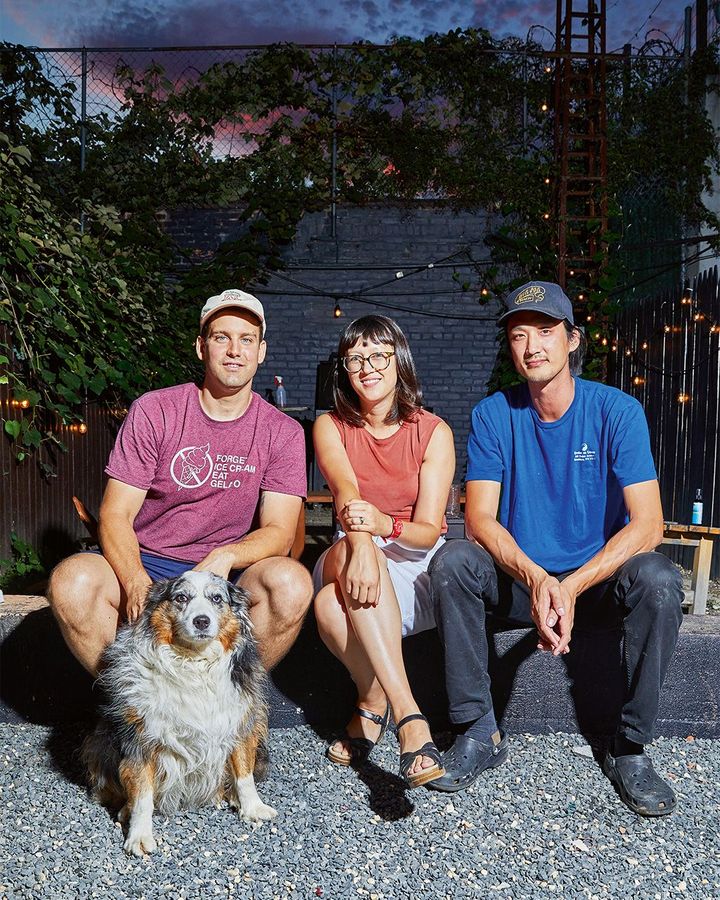 A Taiwanese American Cookbook was written by Josh Ku, Trigg Brown and Cathy Erway (Credit: Laura Murray)
To make the dish, the ingredients should be chopped the same size as the rice kernels and the fermented black beans, the latter of which, according to Chen, is a crucial part of the dish. She said that many chefs in Taiwan prefer using fresh, sticky fermented black beans for their more intense flavour. Unlike dried black beans, which are loose and come with the bean intact, fresh black beans are soft, slightly mashed, and much moister. "Fresh fermented black beans are a direct by-product of making black bean soy sauce. They are more fragrant because they have the lingering aroma of the soy sauce in them," Chen said. However, outside Taiwan, loose black beans are more common, and either can be used.
Once everything is prepped, the dish comes together quickly. "You need to have a hot pan and a hot flame," Brown said. "Don't be worried about having too much fat. You want to really render out that pork and get it crispy. The vegetables are going to cook quick. You only cook [the vegetables with the pork] for 20 to 30 seconds."
The dish is usually enjoyed over rice, though Brown admits he once took that advice a little bit too zealously during a dinner party with Ku and his friends in the early days before the restaurant opened. "I served it in a clay pot over rice, which is kind of unconventional. I thought it was cute. But when I took the top off, all of the chives turned grey because they steamed," Brown said. "He was like 'I'd understand if you don't want to be my partner anymore'," Ku added, laughing.
As it travelled from Taiwan all the way to New York, flies' head has proven itself to be an international hit – despite its unconventional name. There's something delectable about the combination of chives, pork and fermented salty soybeans that has proved to have far-reaching appeal.
As long as the basics are nailed down, there are many ways to adapt the recipe for flies' head. The team at Win Son adds their own spin by using mirin and shiro dashi as flavour agents, a nod to the influences of Japan, of which Taiwan was a colony for 50 years. "There are a lot of creative takes on it today in Taiwan as well," said Chen. "It's also used in mooncake (a pastry special to the Mid-Autumn Moon Festival) stuffing and dumplings."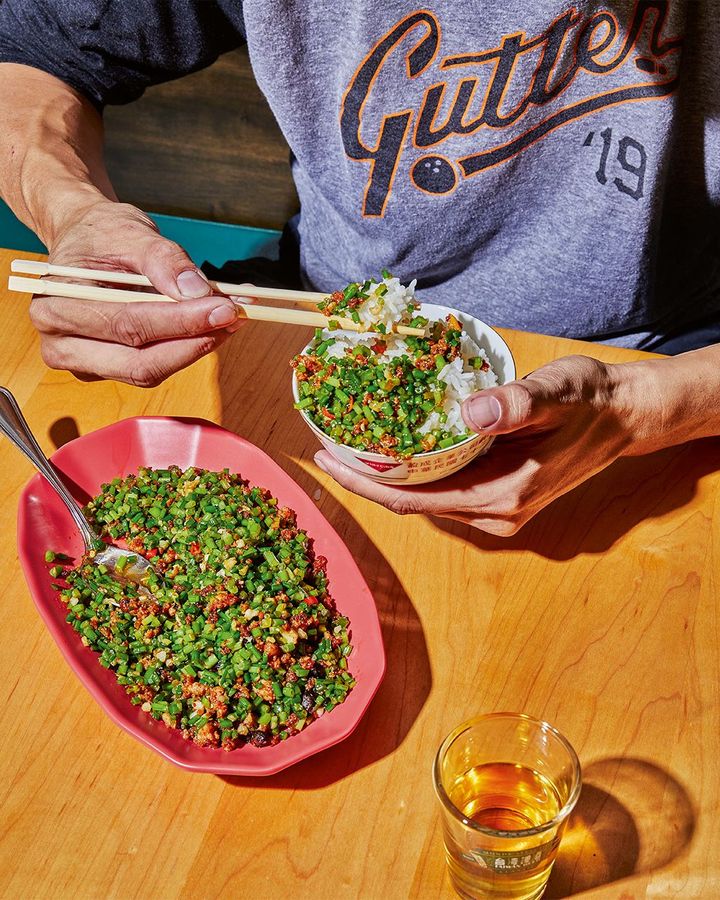 Flies' head" is a stir-fry of garlic chives and pork mince, with tiny bits of fermented black beans (Credit: Laura Murray)
Flies' Head recipe
By Josh Ku, Trigg Brown and Cathy Erway
This uniquely Taiwanese dish has a similar colour scheme to a green bottle fly, but that is where all similarities end. It's made with fatty pork mince, bright-green garlic chives, piquant bird's eye chilli and fermented black beans, and best served over a bowl of warm rice.
Serves 4
INGREDIENTS
455g (1 lb) budding chives (aka garlic chives, Chinese chives or flowering chives)
4 to 6 fresh red bird's-eye chillies, thinly sliced
4 to 6 cloves garlic, minced
45g (¼ cup) dried fermented black beans
2 tbsp neutral oil, such as soybean
225g (8 oz) pork shoulder mince
120ml (½ cup) mirin
60ml (¼ cup) shiro dashi
60 ml (¼ cup) rice wine, preferably Taiwanese, or use Shaoxing rice wine as a substitute
2 tsp cornflour mixed with 2 tsp water
2 tbsp Bull Head Shallot Sauce (a Taiwanese condiment; this is optional)
60ml (¼ cup) toasted sesame oil
Method
Step 1
Trim any very tough, light green or white stems from the budding chives. Finely chop the budding chives. (You can snip off the buds with scissors and reserve them or stir-fry into the dish, whichever you prefer.) In a bowl, combine the chives, chillies, garlic and fermented black beans. Make sure you have all the remaining ingredients to hand because the cooking process is quick.
Step 2
In a wok or large wide pot, heat the neutral oil over high heat. Add the pork and break it up as the fat renders and the meat cooks. When the pork is just cooked, after about 2 minutes, add the mirin, shiro dashi and rice wine, and let the mixture bubble for another 2 minutes. Stir in the cornflour-water slurry and allow it to gently thicken the sauce for another minute.
Step 3
Turn down the heat to medium-low and quickly add the chive mixture and the shallot sauce (if using). Mix thoroughly with a spoon or using a tossing motion with the pan – you are more or less dressing the vegetables with the glazed meat and warming them in the pan. Add the toasted sesame oil. After a few tosses, and about 30 seconds to a minute, the mixture needs to come out of the pan and into a serving bowl. The chives should be just barely cooked, still bright green and dressed from the hot, glazed pork. Adjust the seasonings; the stir-fry should be flavourful and balanced (salty, sweet, spicy). Serve immediately.