 THE STATESMAN INSIDER: General Francis Ogolla's Biography: Family, education, US fighter jet training
Kenya's newest highest-ranking military officer, General Francis Ogolla, has enjoyed a decorated career including being a fighter jet pilot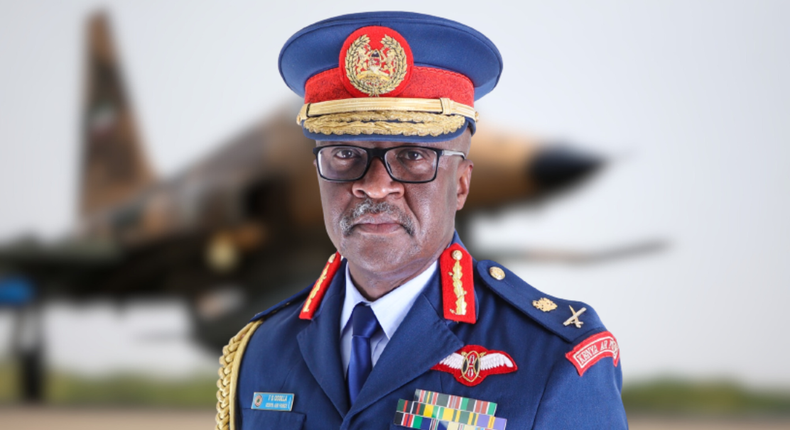 President William Ruto on Friday, April 28 promoted Lieutenant General Francis Omondi Ogolla to a full general and appointed him the new Chief of Defence Forces.
General Ogolla will also serve as the principal military adviser to the President and Cabinet.
The Tonje Rules, which were implemented by former Chief of Staff General Daudi Tonje, established a rotation system that ensures equal opportunities for the three branches of the Kenya Defence Forces: Army, Navy, and Air Force to lead the military.
Therefore, the President was obligated to select the next CDF from the Kenya Air Force, as General Kibochi, the outgoing CDF, was from the Army and succeeded General Mwathethe from the Navy.
This rotation system allows for a fair and balanced approach to leadership within the Kenyan military.
General Francis Ogolla's fighter jet training
General Francis Omondi Ogolla is a highly accomplished and respected senior officer in the Kenya Defence Forces.
He joined the military on April 24, 1984, and was commissioned as a 2nd Lieutenant on May 6, 1985.
Over the years, Ogolla has risen through the ranks, earning various promotions and taking on increasingly challenging assignments.
He trained as a fighter pilot and an instructor pilot with the United States Air Force and also received training in other areas, such as imagery intelligence, counter-terrorism, and accident investigation.
His dedication to continuous learning and professional development has been a hallmark of his distinguished career.
General Francis Ogolla's education
In terms of education, Ogolla has a diverse academic background. He holds a Diploma in International Studies and Military Science from Egerton University, a Bachelor of Arts in Political Science, Armed Conflict, and Peace Studies (First Class Honours), and a Master of Arts degree in International Studies from the University of Nairobi.
He also attended the École Militaire de Paris and the National Defence College of Kenya.
These include Deputy Commander Kenya Air Force, Base Commander of Laikipia Air Base, Commanding Officer of Tactical Fighter Wing, Chief Flying Instructor at Kenya Air Force Flying Training School, and Operations Desk Officer at Kenya Air Force Headquarters.
He has been instrumental in developing and implementing various training programs and operational strategies that have significantly enhanced the effectiveness of the Kenya Air Force and the Kenya Defence Forces as a whole.
General Francis Ogolla's leadership
Gen Ogolla's exceptional leadership, tactical expertise, and professional achievements have earned him numerous accolades and honours.
He was appointed the Commander of the Kenya Air Force on July 15, 2018, and served in that role for three years.
This is a testament to his unwavering commitment to duty, outstanding performance, and his ability to inspire and lead others.
General Francis Ogolla's family; wife & children family
Outside of his military career, Gen. Ogolla has also been active in various organizations. He served as the Chairman of the Military Christian Fellowship from 1994 to 2004 and co-Chair of the Association of African Air Chiefs between 2018 and 2019.
In his personal life, he is a golfer and enjoys reading. He is married to Aileen and has two children.
Ogolla's military career spans almost four decades, during which he has demonstrated an unwavering commitment to duty, professionalism, and personal development.
He is widely respected by his peers and subordinates for his exceptional leadership and tactical acumen.
His many achievements and accolades serve as an inspiration to aspiring military personnel and a testament to the importance of continuous learning and self-improvement.