 Africa's Biggest Betting Firm Launches in Kenya, Offers Ksh200 Freebet and Mega Bonuses
Africa's Fastest growing Betting Firm — Gamewina launches in Kenya with the Biggest Welcome Bonuses, Freebets, Freespins, Deposit Bonuses, Biggest Cashback for ALL lost Bets, therefore, introducing the most reliable betting site in Kenya as their slogan goes "THE HOME OF WINNERS".
Gamewina is changing how fans interact with games of chance and skill in the constantly changing world of entertainment and gambling. Their platform is made to offer a singular experience that is both fascinating and gratifying, whether you are an experienced player or a curious newbie.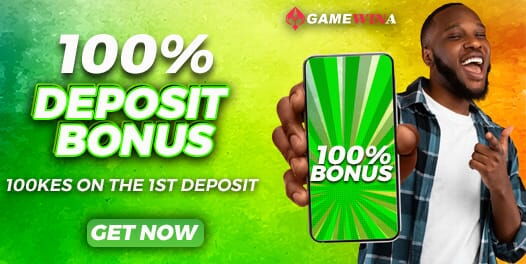 Welcome Offers
To kickstart the journey into your winning world, they are offering an exclusive Ksh200 bonus to all new customers who join their platform. It's a token of appreciation for choosing them as their gateway to your next money making world. Additionally, there is a Ksh500 daily rewards to dedicated affiliates.
At the heart of their platform lies an expansive selection of games that cater to a diverse range of preferences. From virtual games that transport players into immersive digital worlds to classic casino games that evoke the glamour of traditional gambling. The games collection is curated to ensure every moment is filled with anticipation and delight. "For those who seek adrenaline spikes, our crash games offer a unique twist where timing and intuition can turn the tide of fortune," read a statement in part.
The Ultimate Deposit Bonus
Gamewina understands the importance of boosting your playtime, and that's why they are offering an unprecedented 100% deposit bonus. Your deposits will be matched, effectively doubling your funds and extending your gameplay by upto Ksh100. This bonus isn't just an offer; it's an opportunity to explore more games, develop strategies, and maximize your chances of hitting that elusive jackpot.
Gamewina is commitment to excellence extends beyond the games themselves. They have invested in creating an intuitive, user-friendly interface that seamlessly adapts to various devices. Whether you're playing on a desktop, tablet, or smartphone, you can expect a consistent and immersive experience that mirrors the excitement of a physical casino.
The Platform also employs a cutting-edge encryption technology to safeguard your personal and financial information, allowing you to focus solely on the thrill of the game. Moreover, our games are developed by renowned providers, assuring a level playing field where luck and skill reign supreme.
Earn Part time salary; Up to Ksh50,000 weekly working from home
Another interesting money making feature at Gamewina is an affiliate program that actually took six years to craft for better affiliate payments. A three tier referral chain allows users earn up to 25 % from their referrals. You will earn regardless of the outcome of your referral's bet; Win or Lose.
"At Gamewina, THE HOME OF WINNERS we are set to redefine how players engage with chance and skill. With enticing welcome bonuses, an array of captivating games, and a steadfast commitment to responsible gaming, we invite enthusiasts to embark on a journey filled with excitement, strategy, and potential rewards. As we step into this new era of entertainment, we're confident that our platform will be a game-changer in the world of gambling. Join us today and experience the future of gaming firsthand," read a statement signed by the group marketing manager.