 Arsenal 3-1 Chelsea: Angry Gunners show they are still in title race
Arsenal and their supporters are not going quietly in the Premier League title race as the taunts of those labelling Mikel Arteta's side as chokers were thrown back in the face of dismal Chelsea.
City still have two games in hand and are on one of their relentless marches but Arsenal, especially in the first half, delivered a timely reminder that they are still in the hunt. It is an emotion clearly shared by their supporters despite that recent slump of four games without a win.
The Emirates was alive before kick-off and Arsenal ripped into Chelsea in a thunderous atmosphere without a hint of anxiety or frustration, helped by a complete fiasco of a performance from opponents who have lost six out of six under interim manager Frank Lampard.
It is too simplistic to attach the label of chokers to an Arsenal side who have been outstanding this season. They have been undone by individual errors and lapses of concentration rather than a collective meltdown under pressure.
Arsenal undoubtedly caved in at Manchester City last time out, losing 4-1, but they were hit by a lightning bolt of a display from a world-class team that may well have beaten anyone on a magical night at Etihad Stadium.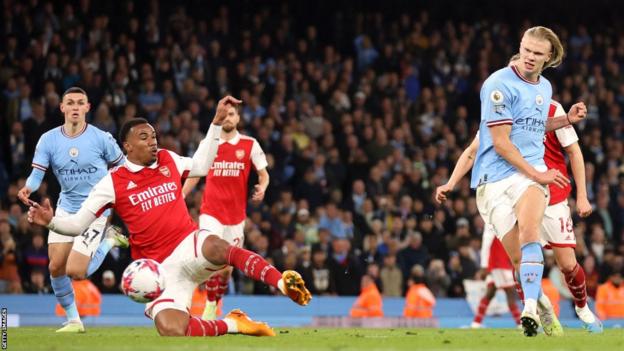 If anything, this was an Arsenal showing fuelled by a turbocharge of anger after that beating, such was the pace and intensity that overpowered Chelsea as they went into a 3-0 lead by half-time.
Chelsea were bullied, beaten, overrun and thoroughly dismantled in that period, Lampard's management now suffering severe reputational damage at the hands of players who are so much better than this but whose lack of effort and competitive edge hints at something rotten at the heart of this dysfunctional, money-squandering club.
Arsenal were back to the team who have provided such rich entertainment this season, the team that has made a title race of it by staying ahead of City for so long.
Of course, if they do not win their first title since 2003-04 they must regard it as a disappointment and an opportunity missed, but Arteta and his players deserve great credit for how they have performed. The upward arc at Arsenal is clear for all to see.
Sadly for Arteta the night was not without its problems and an injury to key defender Gabriel makes him a serious doubt for Sunday's tough assignment at Newcastle United, where any absence would be exacerbated by Arsenal already having to compensate for long-term injury victim William Saliba.
Arsenal's night was done and dusted by half-time, perhaps the only disappointment being a failure to give their goal difference a push in the right direction, even conceding a goal when Noni Madueke pulled one back for Chelsea.
Captain Martin Odegaard led from the front with two crisp left-foot finishes in the first half, Gabriel Jesus then the beneficiary of some farcical Chelsea defending to add a third.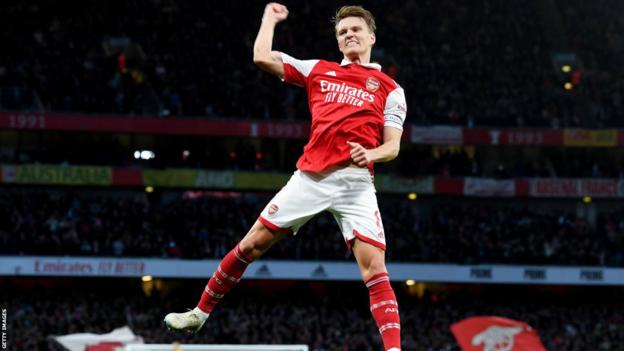 Hope springs eternal for Arsenal despite those recent slips and this will keep the flame burning for a little while longer despite the lingering suspicion that City have now gathered that unstoppable momentum that has carried them over the line in even the tightest situations as they seek a fifth title in six season.
Arsenal at least got the show back on the road here, any dents in confidence restored by a convincing victory - albeit against a Chelsea side who rolled out the welcome mat and whose obliging nature was the perfect cure for any lack of self-belief.
City can go back on top with victory against West Ham United on Wednesday and will still have a game in hand. There is growing conviction manager Pep Guardiola will get his hands on the Premier League trophy once more at the expense of former right-hand man Arteta.
Arsenal, for their part, did all they could against Chelsea and must now hope the cards fall in their favour as the season reaches its climax.